This blog is about how to prepare and arrange Hydrangeas and Roses for your garden or home decor. It talks about the other kinds of flowers that go well with them, tips on how to keep them alive, and things you can do to jazz up a bouquet if all you have are the hydrangeas or roses!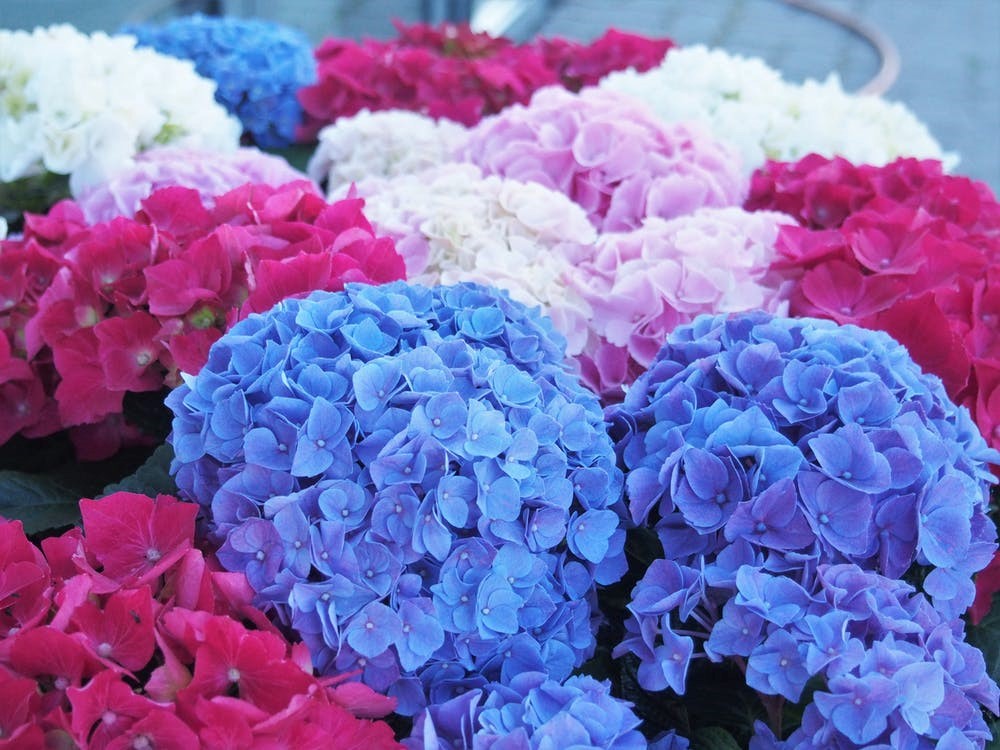 Hydrangeas are the mainstay of summer gardens because their huge mop heads and variety of colors are striking. Moreover, while the blooms of Hydrangeas are permanent on the shrub, their leaves will eventually wilt as soon as they are taken from plants.
On the other hand, Roses also bloom best in the middle of the year (hence designated as the birth flower for June), and come in a wide range of colors, from the classic red to the angelic white.
Luckily, you've found the perfect flower arrangement ideas to make your place look stunning for days on end - and if you choose to choose artificial flowers as an alternative, that's even better!
Arranging Hydrangeas and Roses The Easy Way
How can one make genuine hydrangea arrangements easily, or make a lovely flower arrangement with artificial roses?
Since more hydrangeas and roses have bloomed in growing regions and gardens this time, I am presenting you with simple yet stunning ways of positioning them for decor, keeping in mind attention to details and other aesthetic ideas.
This method is suitable both for beginners and those who have been doing flower arrangements for years. If there is no Hydrangea or Rose on hand, you can get them in the supermarket and arrange for your garden, or choose the artificial, handmade option.
While you are at it, the Saffron's Decor website has cool ideas and services for hydrangea arrangements, do check it out!
The Best Way For Hydrangea Flower Arrangements
There are many ways to arrange these two flowers for your house, but this is one of the easiest and most common methods.
To begin, you will need a vase or container that is at least six inches deep. Cut the stem of the flower so that it is about an inch longer than the height of the vase. Remove any leaves that will be below the waterline.
In the case of the rose, also remember to prune the thorns if using wild ones.
Place the Hydrangea or Rose in the vase and fill with water until the leaves touch the water. Next, add flower food or sugar to the water to help keep the flowers fresh, since both plants need a healthy amount of nutrients.
To make an even better decoration, you can use both Hydrangeas and Roses in the same arrangement, since – depending on the colours – they both complement each other marvelously.
Other blossoms that work well with these two flowers (if you're not interested in pairing them together) are Calla Lilies and Tulips.
Other options are left to your creativity You can add a flower blend of your liking and see how it pairs up!
How to Pick and Prep These Flowers?
Hydrangeas
If you use homegrown Hydrangea in your flower arrangements, take care to make sure are hydrated. You can also weed them in the morning before a flower arrives.
Find more mature buds in the flower opening instead of the newly bloomed ones. It's harder to protect the plants against the abrasions of the elements.
Roses
When using homegrown Roses, make sure to wear thick gloves so as not to privy your hands on the thorns. Regularly weed and prune the bushes for the best blooms.
Similar to Hydrangeas, you should use slightly mature buds which have bloomed for a while over younger plants which haven't even begun blossoming, since the mature flowers are stronger.
5 Tips for arranging Flowers at Home
These bold Hydrangea and Rose blooms are fairly thick so can easily fall out of the vase. Plus, Hydrangea can be weakened by wilted leaves, and Roses are weak to lack of water and flower food.
However, there are ways in which you can keep the arrangements looking fresh - particularly when displaying them outdoors in hot conditions.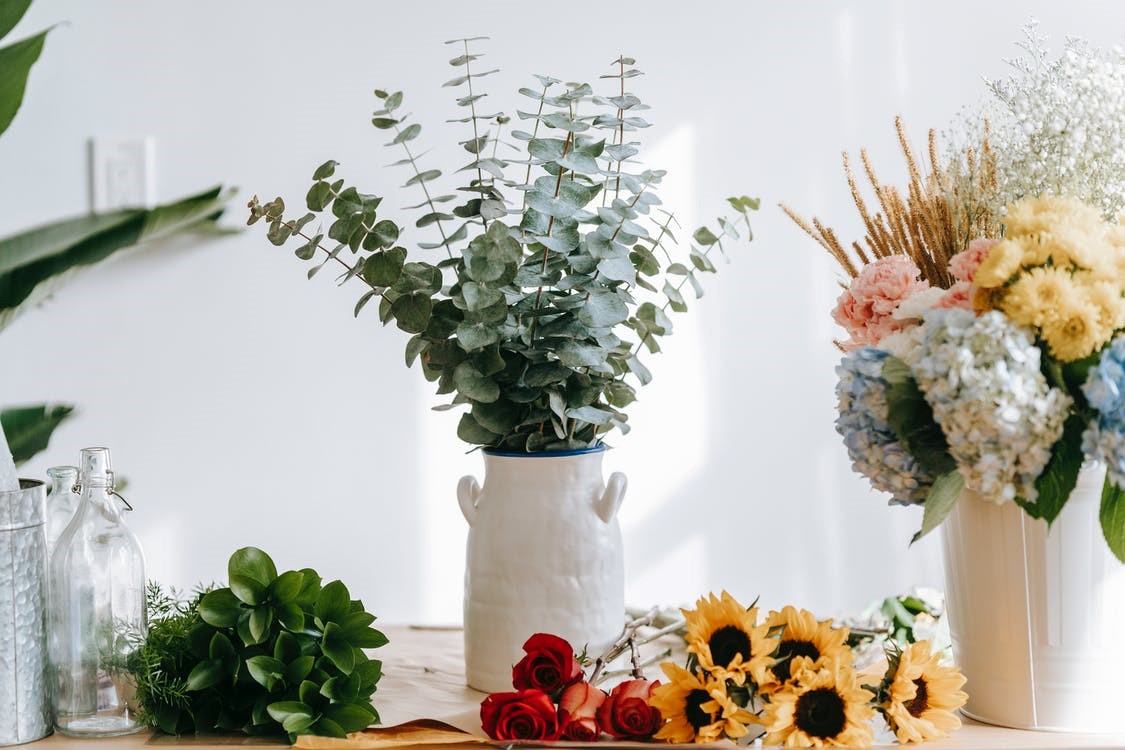 Let us show you some flower decorating tips and ideas.
1. Pair with Complementary Flowers
For mixed flowers, search for bright blossoms that match the size of the hydrangea or rose bloom.
Gofton, a floral designer at Studio Nectar in Montclair said, "Flowers such as roses and dahlia possess a powerful presence. Lilacs also have a large multi-floret, thick head, so although it has delicate flowering hydrangeas, they seem to have bigger blooms."
Therefore, including the options mentioned above, delphiniums, foxgloves, and other blooming spires work perfectly with Hydrangeas and Roses, though Calla Lilies are still the most attractive option.
2. Jazz Up A Same-Flower Bouquet
If you're using only a single type of flower in your arrangement, try adding visual interest.
One of the best arrangements of flowers for Hydrangeas involves mixing different breeds of hydrangeas to make an ombre effect. Similarly, you can choose different kinds of roses for the greatest impact.
This allows you to identify different flower tufts and colors - white, green, purple, and blue - a little. So play around a bit with the color blend to see what works for you.
3. Use tools to keep the plant in place
It's recommended to have space between the flowers because their blooms take up space.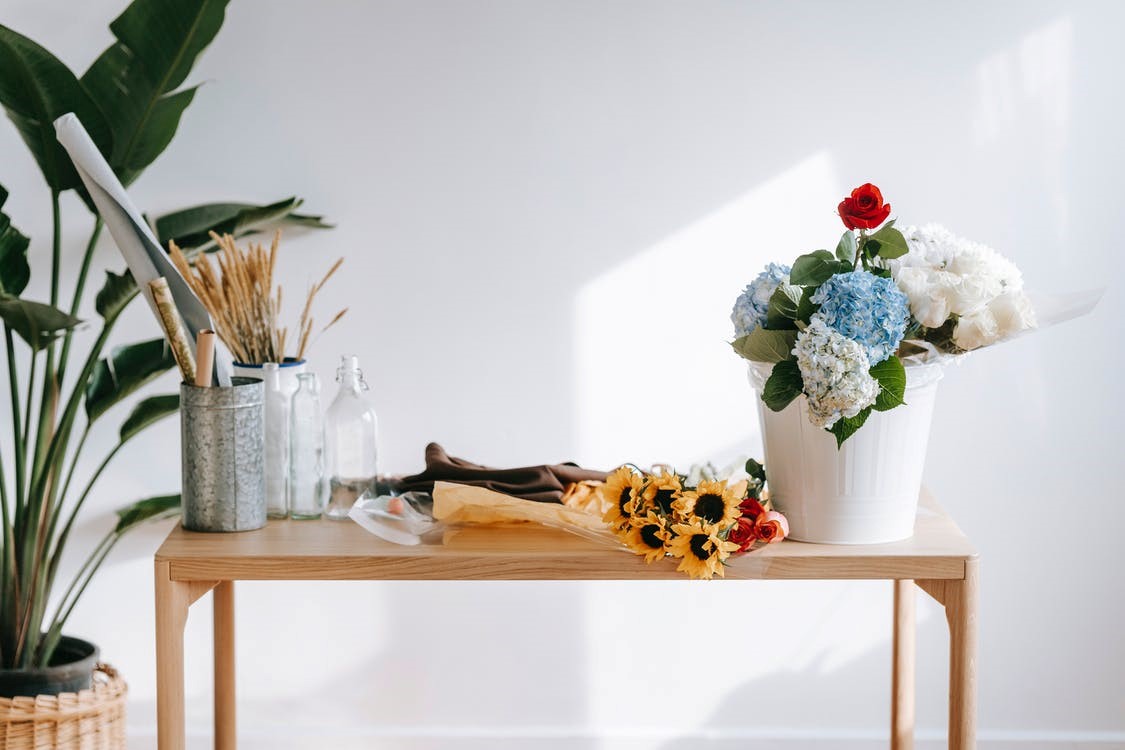 When using a mass arrangement, create a grid over the top of the vase or make a nest of chicken wire around the top so the flower head has some extra surface area.
4. Minimize Wilting with Ice Cubes
Ice cubes melt to cool the flowering stems, which keeps the fresh blossoms in tip-top shape. On the other hand, if you're using artificial blooms, you won't be facing this problem!
Misting your arrangements with a water bottle can revive the arrangements and keep them going until your party is over. So if you want to prevent your plants from wilting, cool them away!
5. Clear Containers are Best
In a clear vase, you cannot see the stems intertwining perfectly and meeting the water. You also fail to see the leaves and any poor flower heads that are too short to peek out.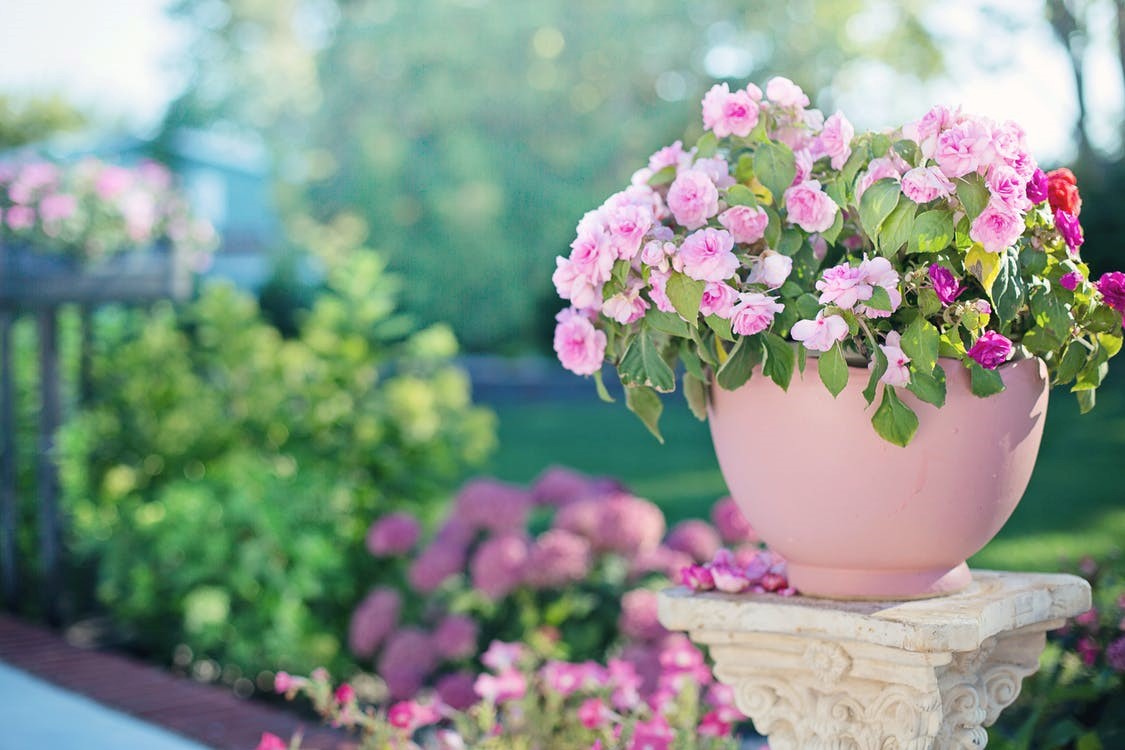 That's why a transparent glass vase is a great option – not only can you see every you need to see, but the flowers are also sure to be perfectly positioned.
Nevertheless, you should consider the size of the container, especially if you are making a large arrangement.
Flowers As A Perfect Gift
It's not easy to find a unique gift, which is why an artificial hydrangea arrangement is a great option. I suggest looking at Hydrangea In Fishbowl Glass Vase and Rose Arrangements available at Saffron's Decor.
Low Cost
The faux flowers are the perfect solution because they look and feel real without the cost of keeping them alive. And if you're like us, you'll want something that lasts forever.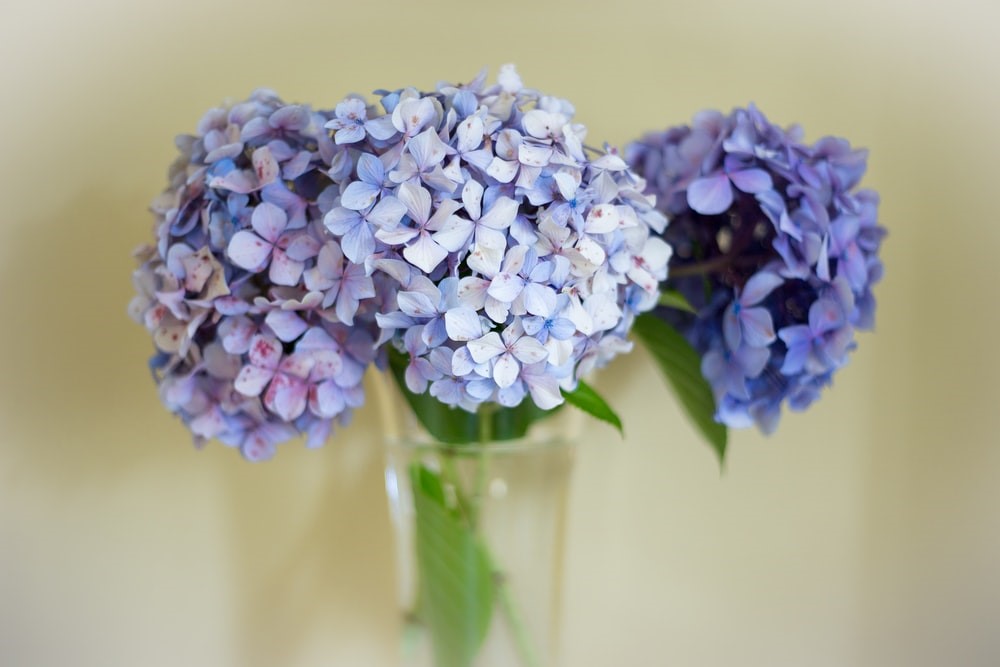 Long-Lasting
These beautiful arrangements will never die or wilt! You can place them on your table or hang them on your wall with our included hanger kit (hanging wire attached). And don't worry about watering these beauties - they'll never need it!
Different Shapes and Sizes
They even come in different sizes so there's one to fit every space. Whether you're looking for a centerpiece for your dining room table or accessories for your living room wall, we've got what you need at prices that won't break your bank!
Flower Arrangement For Home Decor
Looking for a simple, yet elegant way to dress up your décor? Look no further than this Hydrangea In Cylinder Glass Vase and the other brilliant option of Real Touch Roses in Square Vase. Featuring real touch flowers in glass vases, these arrangements are perfect for small coffee tables, bedroom side tables, bathrooms, and more.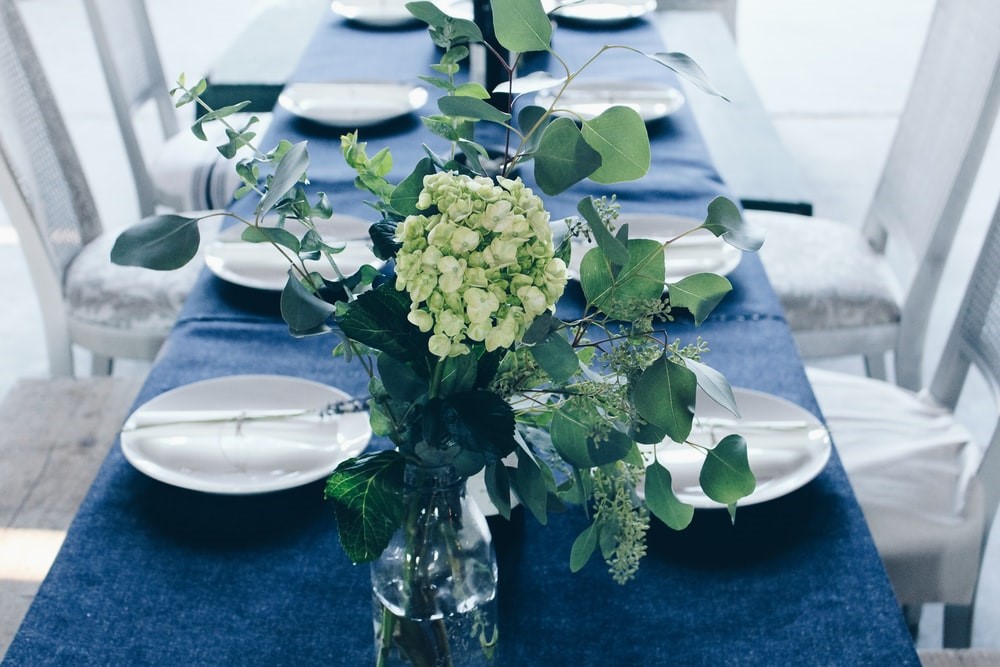 Frequently Asked Questions
What flowers look good with hydrangeas in an arrangement?
The best flowers for pairing are:
The focal point is generally round and bright with unique flowers like roses, lilies, and peonies.
Filler flowers are things that add 'airiness' to the bouquet such as small flowers or leaflets.
Mass flowers such as hydrangeas add a lot to your centerpiece.
Conclusion
Preparing Hydrangeas and Roses for arrangements can seem daunting, but with a little know-how, you can create beautiful arrangements and accessories that will last a lifetime.
In addition to complimentary flowers, using tools like ice cubes and chicken wire can help keep your blooms in place. And if you're looking for a bold arrangement, you can try and use the two flowers together with a Rose-Hydrangea arrangement!