Do you know flowers are the most common and most liked gifts for special occasion? People gift flowers as a token of love and care. Everyone loves how beautiful they are, so giving them as a gift is always appreciated.
Moreover, a flower is one of the best gifts to give because they have so much importance for different reasons.
You can give people flowers as a birthday gift or other important days, making their special occasions and events even more entrancing.
Let's discuss how different countries have a different association with flowers and how people across the globe think about flowers.
The Meaning Of Using Flowers As Presents In Different Cultures
Flowers are a popular gift in many nations. They are regarded as lovely, and their meanings vary from culture to culture. Here are a few of the more popular outlooks of flowers as a gift for a special occasion.
France
Unlike other countries, the French are not fond of formalities for gifts. According to their culture, a gift is opened immediately, and they are not concerned or judgemental whether the gift is costly or inexpensive; all that matters is that the receiver of the gift likes it.
Flowers are another story. Even though these flowers make an excellent host gift, they have significant importance and value for French people, and therefore, deserve any formalities the French may bestow upon them.
Russia
Despite the rough, foreign culture, flower arrangements are still popular in Russia. Flowers are a common presence among Russians, who value them highly.
It's no surprise that flowers have ties to romance, which is important in Russian dating customs. Gift your significant other a flower arrangement, and you're sure to mark the occasion as a special day!
Mexico
Gift-giving in Mexico is also a complicated matter. The main thing you need to know when selecting gifts is that the gift has been chosen with consideration and emotional investment.
This does not mean that they cannot be practical. Rather, gifts should be selected according to your relationship with the people. Flowers are always considered as one of the best possible gifts in Mexico.
Japan
Flowers as gifts in Japan are typically connected with traditional culture. They use flowers as a gift more than often. Even when someone returns from a journey, they are expected to bring omiyage, a special type of flower arrangement.
Although this flower may be difficult to be given as a gift because of the type or colour of the flowers, as they are not very common. Flowers have been given to sick people in Japan for many years in the world.
Flowers As Gift
There are a variety of beautifully arranged flowers available in the market to suit any occasion. Whether it is the romantic rose or the beautiful Lily, both of these flowers have ability to bring a smile to the face of receiver.
Flowers are always the perfect gift for an individual, especially when you have to make your interactions special. You can create the perfect moment of pure love only by adding flowers (with arrangements or corsages) to your date.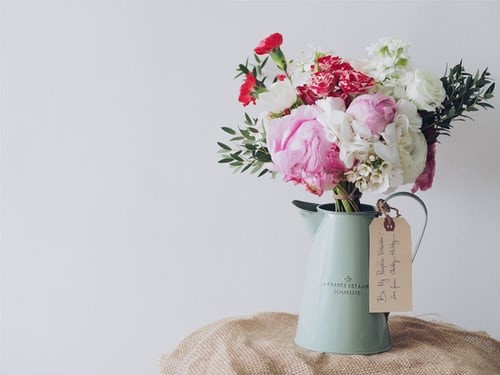 We've all been there, I know, it's been the fifth time in this year that you get your partner their favourite flowers, put them in a beautiful vase, and then realise, "Flowers as a gift can become a cliche."
But who cares! They are probably the best your partner expects you to bring and is the most cost-efficient method of pleasing your spouse. As they are known for expressing love, sympathy, celebrate moments, and for confessing an apology.
Are Flowers Still A Good Gift?
The answer is yes. Flowers are always trendy and the concept of sending flowers to your loved ones never gets old. They will improve your mood and let you relax with their soothing beauty.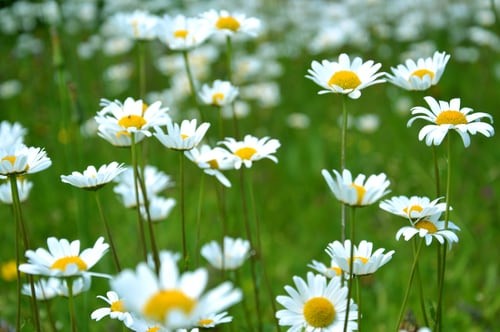 Do you know what is the best thing about flowers? They can be given at any time of the year, and you can find any of the beautiful flowers in every and any season. What else would be a better excuse to give them as a gift?
Be it is Christmas, Easter, Valentines or anniversaries, flowers are the perfect gift. If the person you are gifting flowers love them, you will see a connection between their happiness and those flowers.
What Do Different Flowers As A Gift Mean?
Flowers as a gift are pretty popular, as you must have realised by now. They say, "I'm thinking about you." or "I miss you" more than words ever can. Thus, getting flowers is a common practice these days to relay that which you cannot say.
Everyone also loves receiving them because they are sweet and beautiful to look at. That being said, flowers carry their very own language - so take care when you gift them to others!
Red and Yellow Roses:
When you get or give someone a special bunch of red roses, it means "I love you." This statement is quite popular to use nowadays. The red colour denotes passion, care and affection which symbolises its meaning.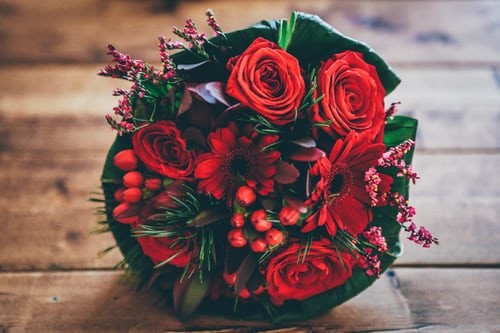 As compared to red ones, giving someone a yellow bouquet, reflects "friendship". Yellow is considered one of the most positive colours in life. It stands for friendship, joy, intellect, and energy. These yellow flowers are given when you are grateful to have them in your life.
White Lilies:
On the other hand, if you get someone a bunch of white lilies, it means "pure love" or "innocence". They represent purity because everyone knows how hard is to make a lily bloom.
Thus, it's pretty much the same to say, "I choose to love you for who you are, and for the purity of your heart and soul."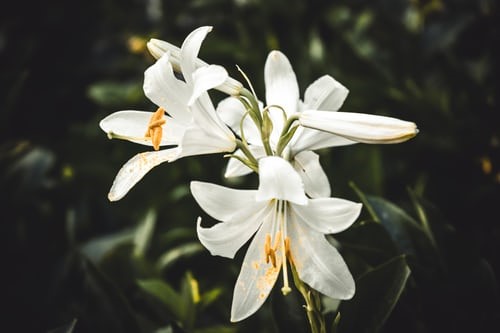 Red Tulips:
People also give red tulips as a gift because they stand for love and passion.
The reason why these flowers are mainly given during Valentine's day is that there is a belief that if you put one under your pillow at night, your wishes will come true - including finding your significant other through love at first sight, like in fairy tales.
Pink Roses:
On a last note, giving someone pink roses as a gift refers to the meaning of "appreciation." Pink flowers make everyone feel appreciated because they often think of them as brightening up their world with colour.
Giving them to your family member, be it your mom, dad, or siblings, can lighten up their day. It is definitely a positive way to show love and affection.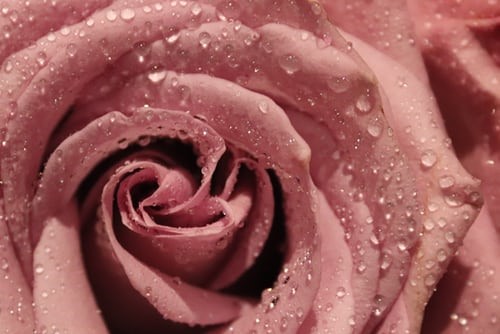 Flower Delivery
Do you know there are florists that offer flower delivery too? If you are unable to head to the nearest florist shop yourself, you can have the flowers delivered to your place, or gift-wrapped and sent directly to the recipient. This service of getting flowers delivered at your doorstep is definitely a plus.
But going to a florist can also be a plus! You can arrange the flowers in the specific arrangement you want it to. And if you are not sure what to pick, don't worry - the florist will be make you an amazing combination that you will love for sure!
In any case, you can either choose to go yourself or opt for flower delivery if you're giving flowers as special gifts. And if you choose delivery, it's better if you do a little bit of research on the recipient's preferences so that the flower delivery can bring a smile to their face.
Conclusion
In a nutshell, it is very common among people to give flowers on a special occasion, be it in arranged baskets or potted plants, to someone dear and close when needed.
It not only brings smiles to the faces of the receiver but also good memories for the giver. Plus, flower gifting has always been associated with beauty, attraction, nature's charm, and love.
Also, if you are giving flowers to your loved ones, Roses are among the most popular flowers to be gifted on a special occasion. All you have to do is choose the right florist, where beautiful bouquets of fresh flowers are being prepared.
And if you're looking for faux flower options, you can check out your options on Saffron's Decor, where they have Rose Arrangements of many different kinds!