Honouring the memory of loved ones who have passed away is a difficult and emotional experience. Still, floral arrangements often provide a beautiful and meaningful way to pay tribute. In the UK, many families are now turning to artificial flowers for graves to commemorate their loved ones.
A Tradition Dating Back Centuries
This tradition of using artificial flowers for graves can be traced back centuries and is rooted in cultural and historical significance. In ancient civilisations, flowers and plants were often used in burial rituals to symbolise life and death. They were believed to have spiritual and mystical properties that could protect and guide the dead on their journey.
More recently, artificial flowers for graves became more widespread as families sought to create a permanent and lasting tribute to their loved ones.
Over time, using artificial flower arrangements for graves has become an integral part of funeral traditions and memorial services. It serves as a way for families to express their love, respect, and gratitude to the deceased while providing comfort and solace to the grieving.
Check out the importance of the cemetery to our community.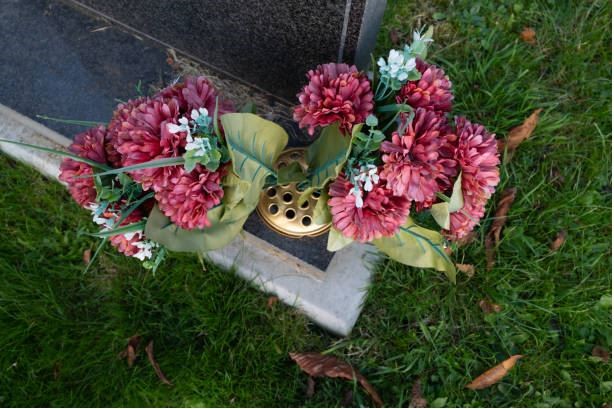 Evolving Funeral Customs
As time passed, traditional funeral customs grew. Incorporating artificial flower arrangements into funerals became more popular as they provided an affordable alternative to fresh-cut flowers while conveying love and respect.
Additionally, funeral services also started incorporating technology, such as live streaming, so that friends and family who could not attend in person could still be a part of the ceremony.
Cremation has also become increasingly popular recently, with many choosing cremation as a more affordable and environmentally friendly option than traditional burials. It has led to new funeral customs, such as scattering ashes in a particular place that holds meaning to the deceased or their loved ones or even incorporating ashes into jewellery or keepsakes.
Funeral customs and artificial memorial flower arrangements are also becoming more personalised, with families creating meaningful celebrations of life to reflect the interests and personality of the deceased. It can include incorporating music, food, and other significant elements of the dead person. Furthermore, people are choosing to have non-religious, or even humanist, funeral ceremonies, which focus on celebrating a person's life who has died and offering comfort and support to those grieving.
Funeral customs continue to evolve and adapt to society's changing needs and values. Still, the core purpose remains the same: offering a compassionate farewell to the deceased and supporting those left behind.
Increase In Artificial Flower Options
In recent years, the selection of cemetery artificial flower arrangements has grown significantly, providing mourners with a wide range of options. Whether you prefer contemporary design or traditional styles, you can find the perfect artificial memorial flower arrangement to suit your taste and budget.
The rise of online retailers has made it easier to purchase artificial cemetery flowers, giving mourners increased convenience and accessibility. With so many options available, it's never been easier to find the perfect way to pay tribute to a loved one who has passed away.
Wide range of styles to choose from
Lifelike flowers made from high-quality materials
Increased convenience with online retailers
Traditional to contemporary designs are available
Budget-friendly options available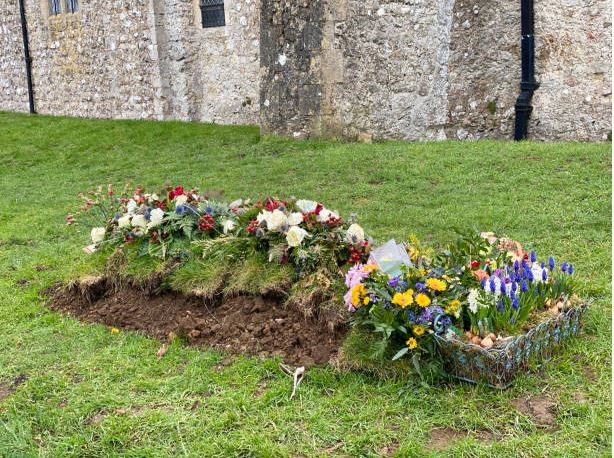 Luxury Artificial Flower and Arrangement Options for Graves in the UK
As the popularity of artificial flowers for graves UK grew, so did the options available for mourners. Today, there is an ever-growing selection of luxury artificial flowers for graves on the market, designed to provide families with a high-quality and sophisticated way to commemorate their loved ones.
You can find almost anything when creating a beautiful memorial flower arrangement, from natural roses and lilies to vibrant sunflowers and daisies. And, with so many retailers and florists offering artificial flowers for graves, mourners have more meaningful choices when it comes to selecting the perfect blooms for their memorial.
Several different arrangement options are available for mourners looking to create a beautiful tribute. Some popular choices include
A single stem of your loved one's favourite flower placed in a vase or holder on the grave.
A small bouquet of artificial flowers tied with ribbon or other decorative accents.
A larger arrangement made up of several stems or bunches of artificial flowers.
A wreath or garland of artificial flowers is often used as a centrepiece for a memorial.
With so many options available, mourners are sure to find the perfect way to pay tribute to their loved ones and keep their memory alive through the beauty of artificial flower arrangements.
High-Quality Artificial Flowers At Saffron's Decor
At Saffron's Decor, we understand the importance of memorials - especially during difficult times. That's why we offer a range of quality artificial flower products perfect for any occasion. Our selection includes classic styles, as well as more modern designs – all made from high-quality materials so that each bloom will look its best for years to come.
Customisable Options
No matter your budget or style, our skilled florists can quickly help you create a unique permanent tribute.
And if you're feeling adventurous, our blog covers all aspects of DIY artificial flower arrangement for graves design so anyone can craft an incredible memorial piece right home!
Conclusion
So, if you're looking for lavish yet budget-friendly permanent artificial flowers arrangements for graves in the UK, look no further than Saffron's Decor! As experts in fresh-cut blooms and sophisticated faux creations – we are here to help ensure that a special someone will always be remembered in style!