Are you fond of gardening and a big fan of Tulips? Well, you'll be delighted to hear about how you can make these beauties last longer.
Tulip is an all time favourite for gardeners because it gives a vibrant vibe with its fresh colours. But what about those who don't have a garden but would love a firsthand experience of flowers blooming?
Hear me out, this is for you! Store-bought flowers die in a few days. So how do you make tulips last for long ?Generally, with proper care, tulips can last up to ten days.
Tulips Are Produced All Around The Year
Tulips are produced under controlled temperatures. They need to be placed at forty degrees (F), for three months before they are brought into warmth. What farmers do is that they trick the biological clock of flowers to make them bloom around the clock instead of just spring.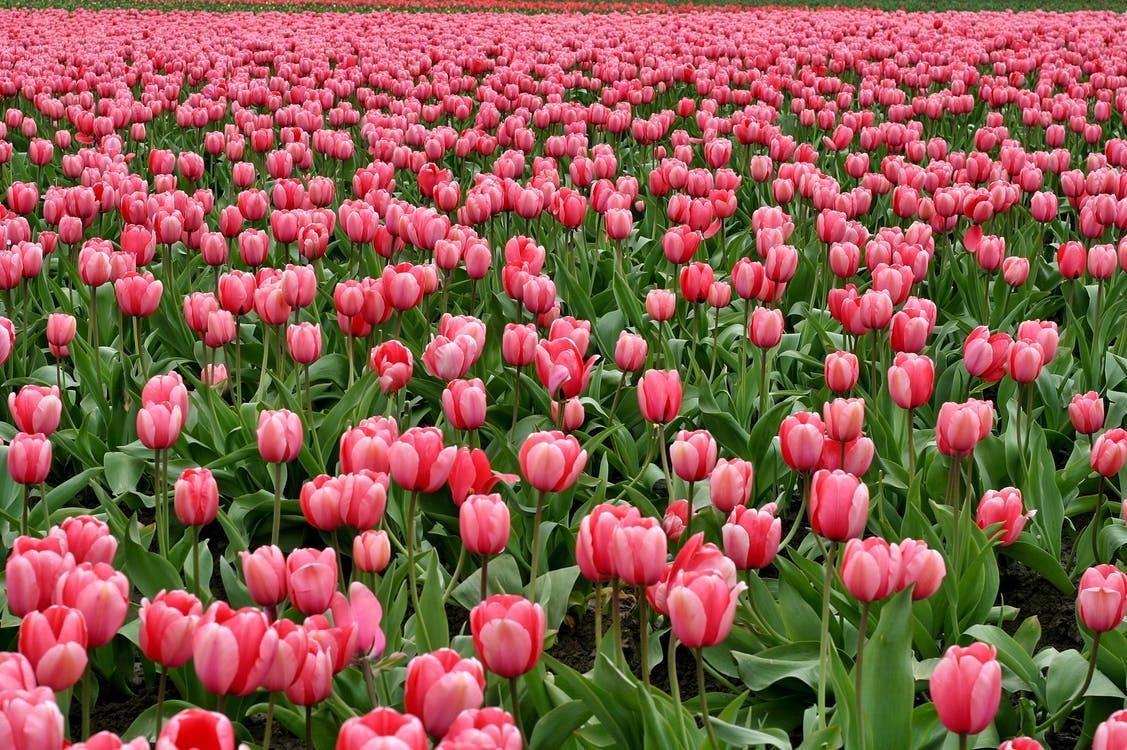 A common man who doesn't own a greenhouse cannot produce tulips with this methodology but they can buy cut tulips from the store and watch them grow under their roof in a vase!
Sounds exciting? Watching a flower grow in a vase? Let's find out.
To Make Tulips Last Longer In A Vase
1. Pick The Right Kind Of Tulip
You need to pick the tulip kind carefully, choose the ones that are ready to bloom but their petals are still closed. At this point, you will know what colour these tulips will be when it opens.
Pick the bunch that is almost at the stage of maturity, ready to blossom and shine.
Assorted Colored Tulips
2. Keep The Tulip Tips Hydrated With A Damp Cloth
The key tip is when you buy the tulips from the florist. You should cover the stems of the tulips to keep them hydrated. Cover them up with a damp cloth.
Like every other flower, tulips are thirsty for water, but they soak water rather quickly.
3. Diagonal Cut And Trim
Once you bring them home you need to cut the bottom of the stems about half an inch diagonally. This way the tulips absorb more water.
Many suggest that you should cut the stems under running water so no air gets inside the stem drying them out.
4. Proper Selection Of The Vase
The question of how long do tulips last in a vase depends on the right selection of the vase. When arranging the vase you need to keep these two things in mind.
Firstly, pick an accurate vase for your tulips. The vase should not be small or too wide, ideally a long vase which covers almost half of their length would suffice.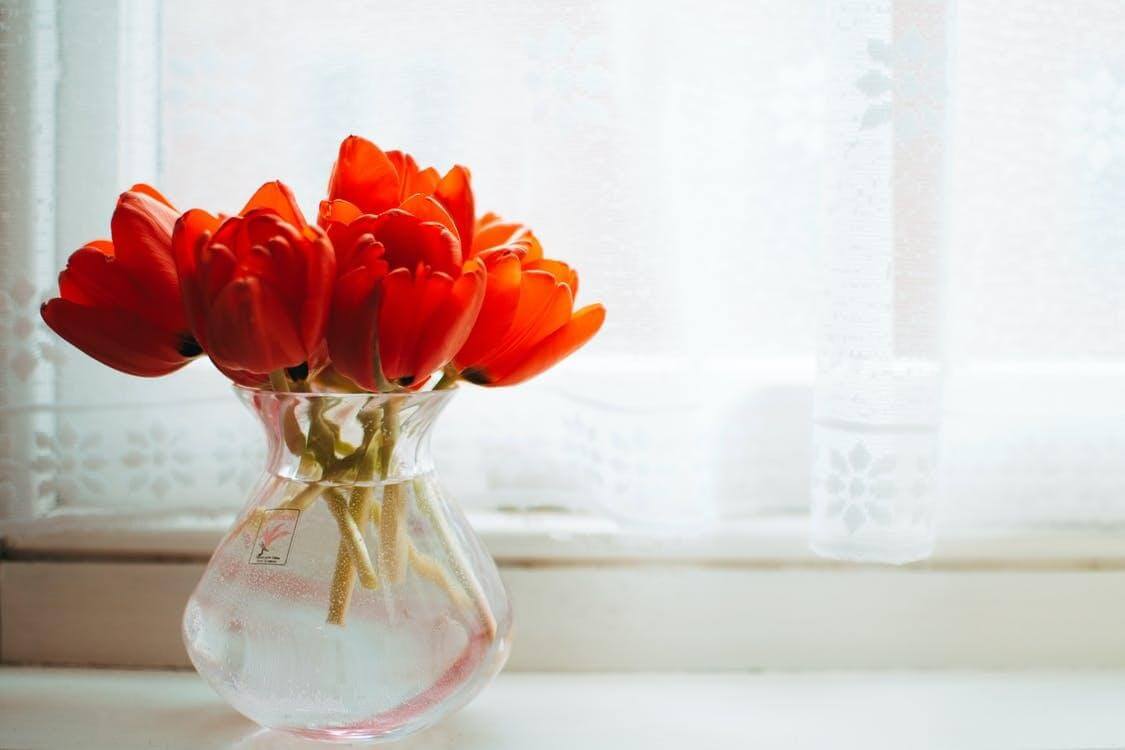 Secondly, the vase should be clean. Just to ensure no other particles or residue are in the vase, wash it before placing your tulips in the vase.
5. Maintaining Adequate Water Level
Every flower needs water in the vase to stay alive but tulips are different. They are thirsty for water. Their water level decreases quickly when in a vase. A tulips vase needs refilling almost every day.
In the case of tulips, the water level decides how long do tulips last in a vase. To keep them hydrated, maintain the water level in the vase covering half of its stems. The temperature level of the water should be lukewarm to cold.
6. Add Flower Food For Prolonged Freshness
Once you have placed the tulips in the vase, put some flower food in the water to make them last longer. Many people add lemon juice to the water of flowers to keep them fresh for a long.
Research shows the most operational way to keep flowers fresh is through the use of flower food.
7. Keep The Tulips Segregated
How long do tulips last in a vase? Well, they will not last long if you mix them with other flowers.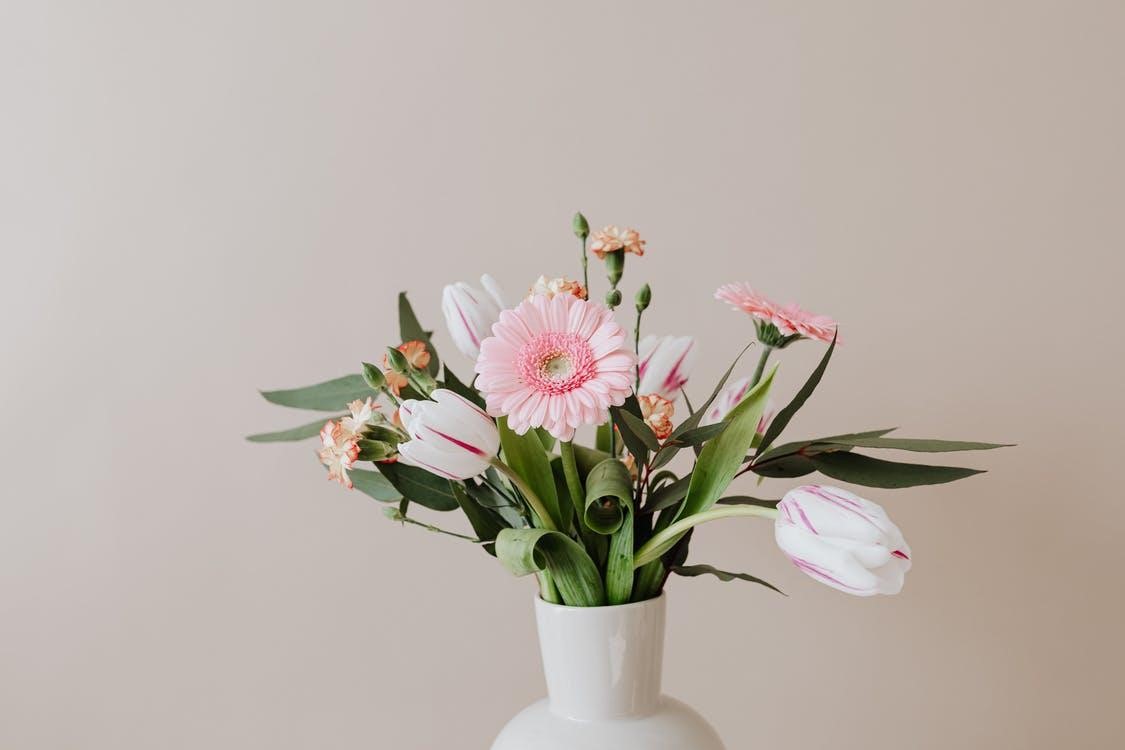 Don't mix your tulips with another flower to make the vase attractive. Tulips are a kind of flower which can last long.
When you add other flowers they die quickly enabling tulips to die sooner than they tend to. Therefore, don't add different flowers to a vase containing tulips.
8. Keep Away From Heat
The tulip is a sensitive flower. It dies in heat. Ensure that the vase of tulips is kept out from direct sunlight or any other heating devices inside your house such as a fireplace, oven and such more appliances.
Once you take proper measures to ensure your tulips last long, you will see them grow right through the vase. From opening their buds to blooming into flowers. Sometimes they may look droopy to the sides, but thats nothing to worry about.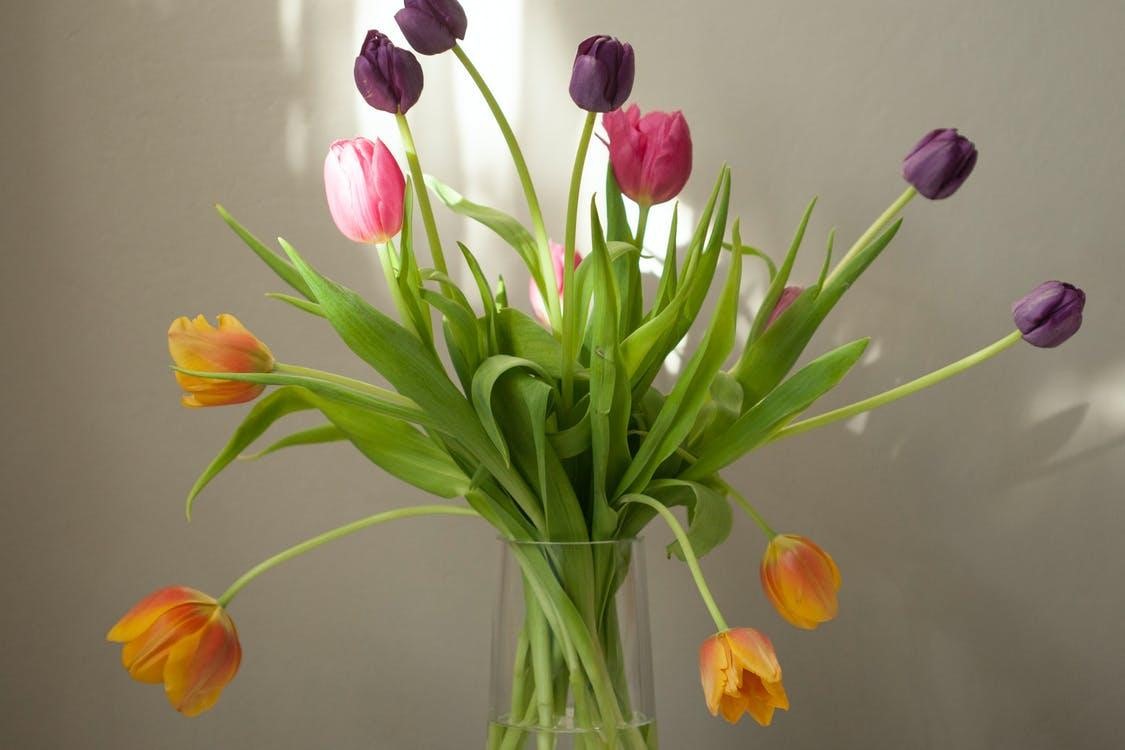 A tulip is a flower which follows the light, it will follow the light and bend in that direction. To ensure that they stay upright, you can rotate the place of the vase so they don't bend in one direction and stay upright. See how artists give new life to fake flowers.
Tulips Make The Perfect Gift
Flowers are a lovely way of voicing love, you can give flowers as presents for birthdays and Valentine's Day. Tulips come in an extensive selection of colours.
Red coloured tulips are are a perfect replacement for valentines day. For two reasons, they are cheaper than roses and they come in a variety of colours and last for a long time as a reminder from their loved ones.
The Final Word
Every flower demands proper nourishment and care to blossom. Tulips are no different and should be cared for with delicacy.
Some flowers are very sensitive and do not last long in a vase. But not Tulips!
If proper measures are taken, they can last longer than they intend to. If you still cannot look after these flowers then you can enjoy great-looking faux flowers from Saffron's Decor.