Tulips are one of the most popular flowers in the world. People love tulips for their bright colours and unique shapes. Moreover, while these flowers are beautiful when they are fresh, they can also be made into beautiful floral arrangements!
In this blog, we will explore 10 different tulip arrangements that will look great in your home. We will also discuss the benefits of using artificial flowers in your home decor.
Looking for trending ideas for artificial floral arrangements for Tulips? Enhance your tulips decor with artificial flowers that bloom beautifully. An artificial tulip arrangement from Saffron Decor's will make any home beautiful and lively.
Tulip Arrangement
Tulip arrangements make an ideal table centrepiece, especially once it is highlighted by an elegant clear glass vase. Real touch tulips are available in a white vase surrounded by artificial flowers as a perfect way for rejuvenation of interiors.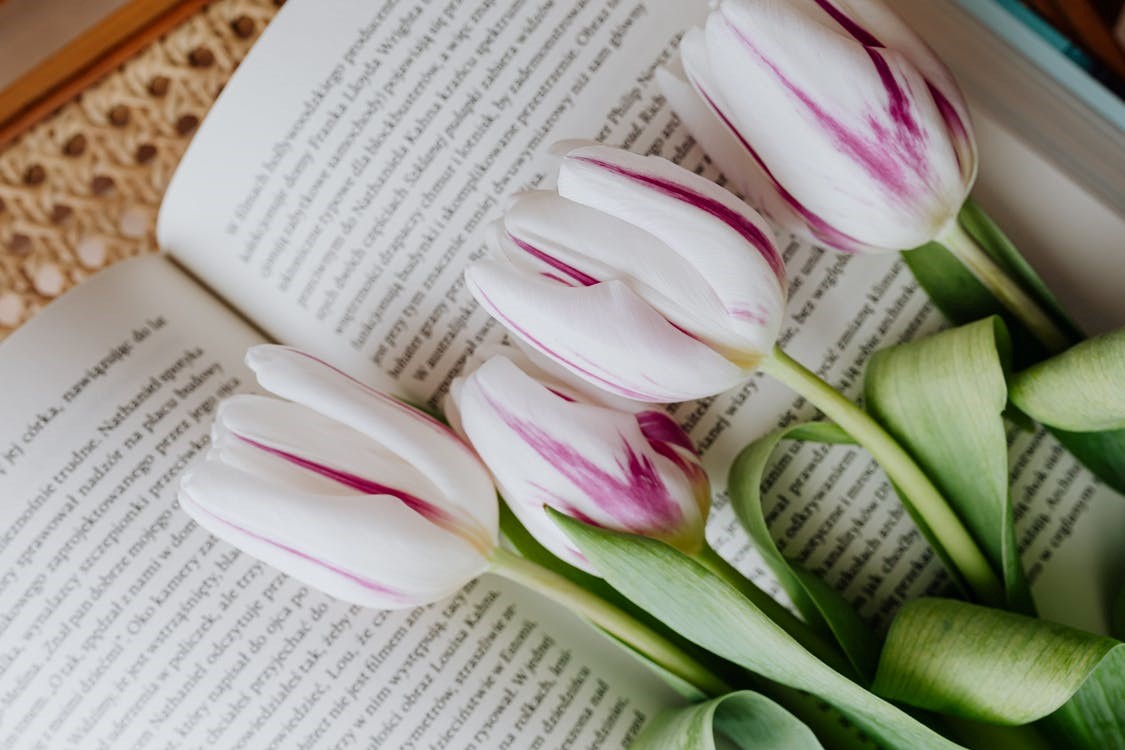 These gorgeous flowers, made of highest quality material, look like they reside on glass bottles with water mimicking. As wonderful as it sounds, tulips introduce a springtime feel to the ambiance. For a more elegant appearance and warmth, choose faux flowers.
And now, without further ado, let's have a look at what tulip arrangements are trending in 2023!
10 Stunning Tulip Arrangement Ideas
Florals make a beautiful exhibition! Tulip flowers are a beautiful choice for aesthetics. The variety of colours, soft textures, and soft appearance of these products make them an unbeatable choice.
This was primarily the reason for our decision to make this post about tulip flowers. There's lots of ways to arrange tulips.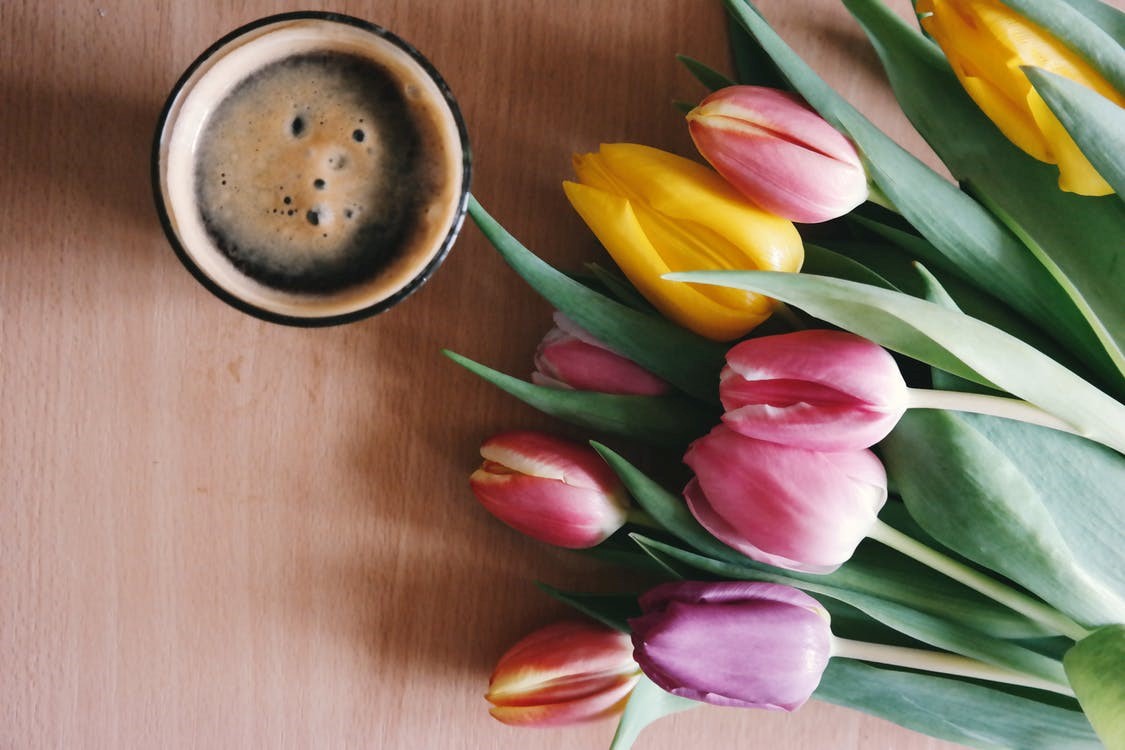 While floral arrangements may appear boring, there are several things you can use to create a uniquely appealing product that will surely attract every one of your visitors.
Below is a list of some of the best ideas to plant tulips and make beautiful arrangements.
1. Brighten Your Space With A Colourful Centrepiece
So far, we have established how appealing tulips are, but did you know they make a beautiful centrepiece?
Using 3 to 5 colours the effect is truly spectacular and not overwhelming. The mix of various flower types provides depth and vibrancy to the mix.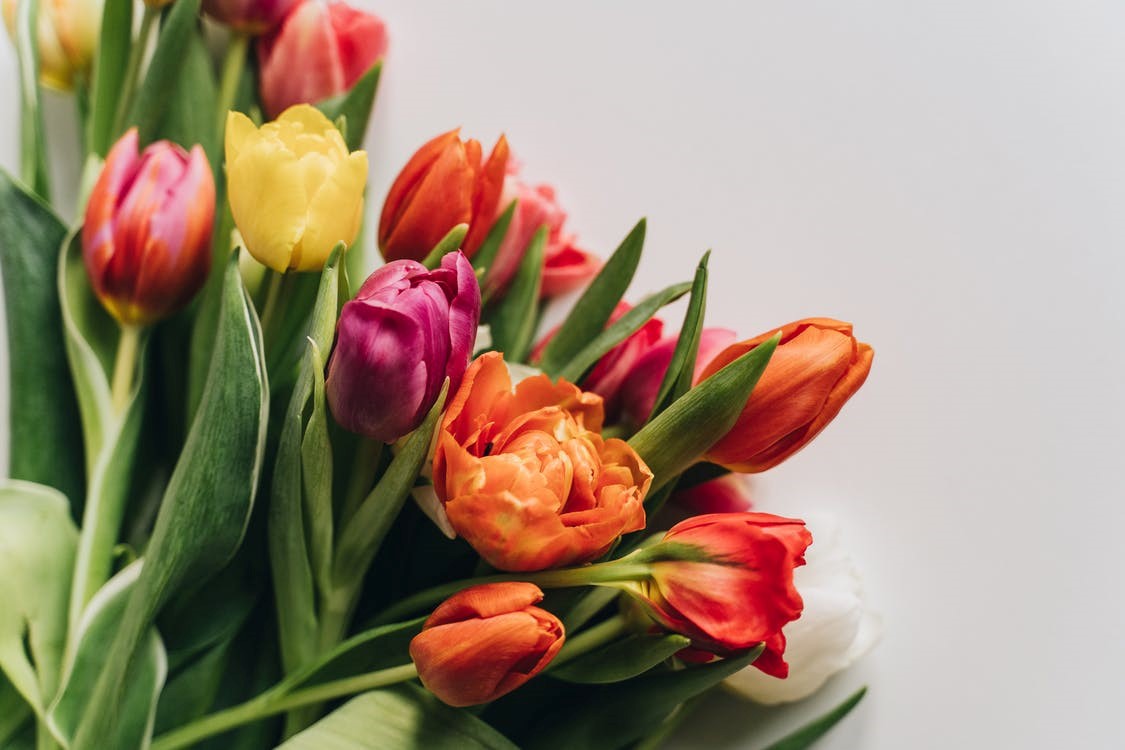 A small vase made of rope handles can be very useful and give it a warm feel. These arrangements demonstrate how a proper container helps create a scene.
Tulips are also very affordable, which makes them a budget-friendly option for centrepieces.
2. Customize Wooden Crate Decor
When it comes to tulip arrangements, one of the most popular ways to display them is on wooden crates.
Wooden crates provide a rustic and natural look that can enhance the beauty of tulips. There are many different ways to create tulip arrangements on wooden crates:
1. The Classic:
This is the most basic tulip arrangement on a wooden crate. It simply involves arranging tulips in a row or column on the crate.
2. The Cascade:
This tulip arrangement involves cascading tulips down the side of the crate. It's a beautiful way to show off the tulips' colours and textures.
3. The Bouquet:
This tulip arrangement is brought together by adding different tones of the flower in a lovely bouquet.
3. Twine Wrapped Tulips
Is it true that flowers can be placed perfectly without vases? Yes, indeed! The right material allows an arrangement of tulips to stand alone as an attractive display.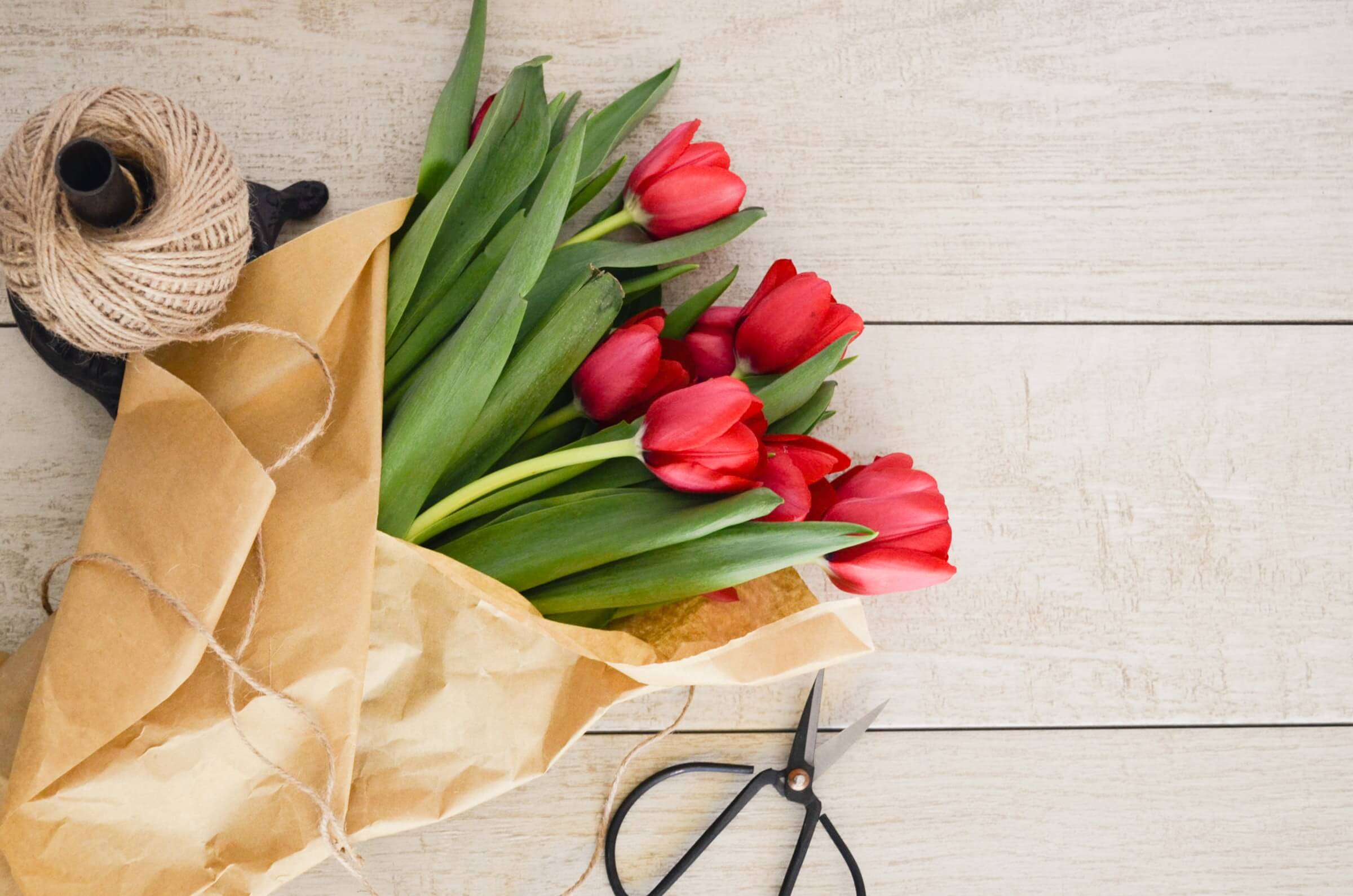 When tulips are wrapped in twine, it can give them a more elegant and sleeker look. This is a great idea for an arrangement that you want to be the centre of attention.
By wrapping the tulips in twine, you can show off their natural beauty while also adding a touch of elegance to the display.
4. Change the Entire Arrangement with a Vase
A vase can change the look of tulip arrangement in a number of ways. For one, it can add height to the tulips, making them stand out more in the display.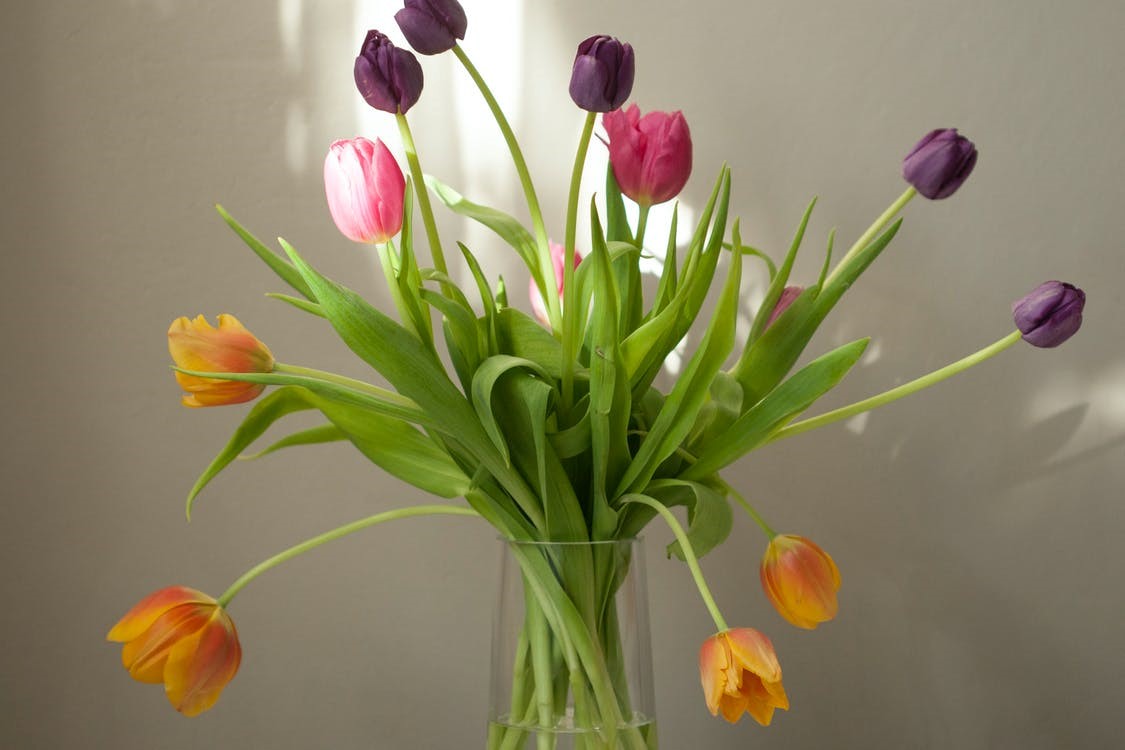 Additionally, a vase can add more colour and texture to the arrangement, making it more eye-catching.
Finally, it can also add a unique style to the tulips, making them look different from other tulip arrangements.
5. Dainty Accents
One of the most appealing aspects of tulips is their delicate beauty. This can be seen in the dainty accents on some tulips, which make them stand out from other flowers.
These dainty accents can be found on certain tulips, and they add a unique beauty to the flower. They are also a reminder of the tulip's natural elegance.
6. Evoke Happiness with Yellow Blooms
Yellow can brighten the interior. And tulips — this colour really brings them to life in an entirely different way!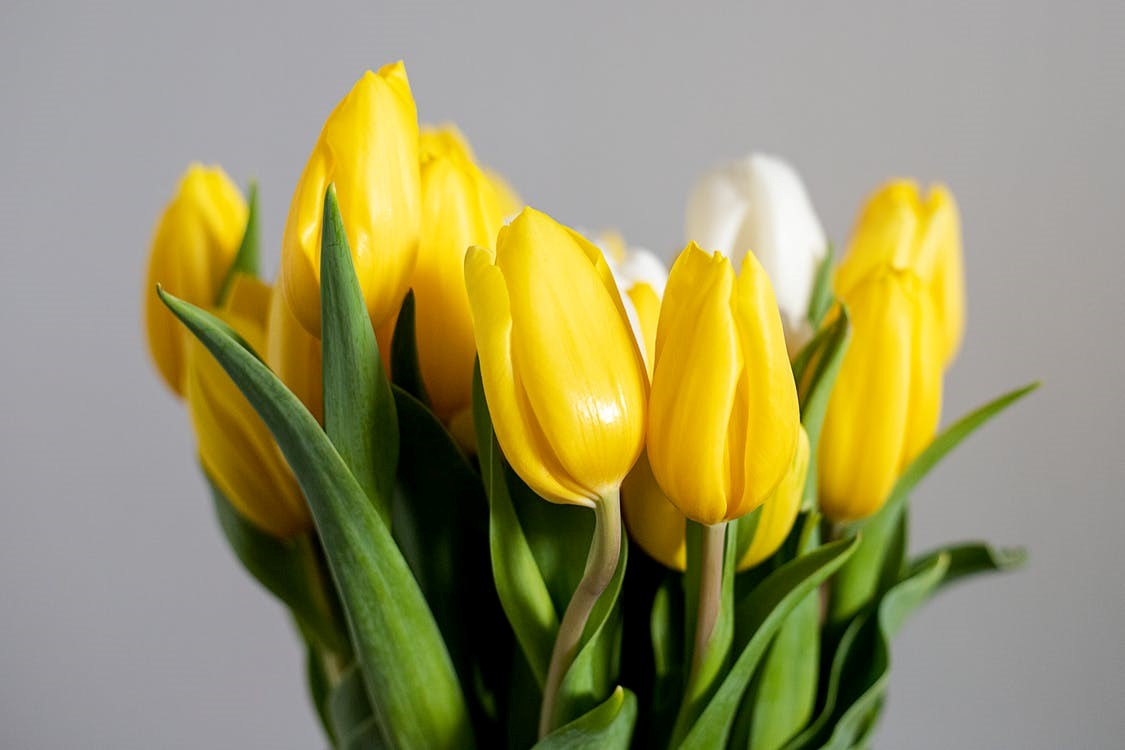 The arrangement uses an impressive bouquet of yellow and white tulips with enough greenery to create the perfect complement.
When presented in a vase, the shape makes this yellow beauty spread out in a brightly cheerful way.
7. Freshly Cut Flowers
Freshly cut tulips are a beautiful addition to any room. They add colour and life to the space and can make it feel more welcoming.
Additionally, tulips are a symbol of happiness, so they can bring cheer to any room.
8. Natural Woody Elements
When it comes to tulip arrangements, adding natural woody elements can add a unique touch to the display.
These woody elements can be found in the stems, and they add a natural beauty to the flower.
Their rustic vibe can be appealing for those who want an arrangement that is different from the standard tulip arrangement.
9. Attention Grabbing Colour Scheme
Usually, the arrangement should be louder and more visible. It's a sure distraction for everyone!
The large range of vibrant, colour-filled flowers with different bloom stages create an enchanting and cheerful vibe.
10. Pastel Floral Arrangement Preferences
The arrangement uses many different types of blooming plants in its compositions. It's all about the dainty. How do you create dainty looks? White, pale pink or purple are excellent options.
In addition, you can place these anywhere in the house without having to worry that it will clash - from the dining table to the entrance, anywhere is perfect.
Tulips Make A Cheerful Gift
Flowers can cheer up almost anyone! (Unless they're allergic to them.)
Still, there are so many different types of flower arrangements out there, how do you know which one is best?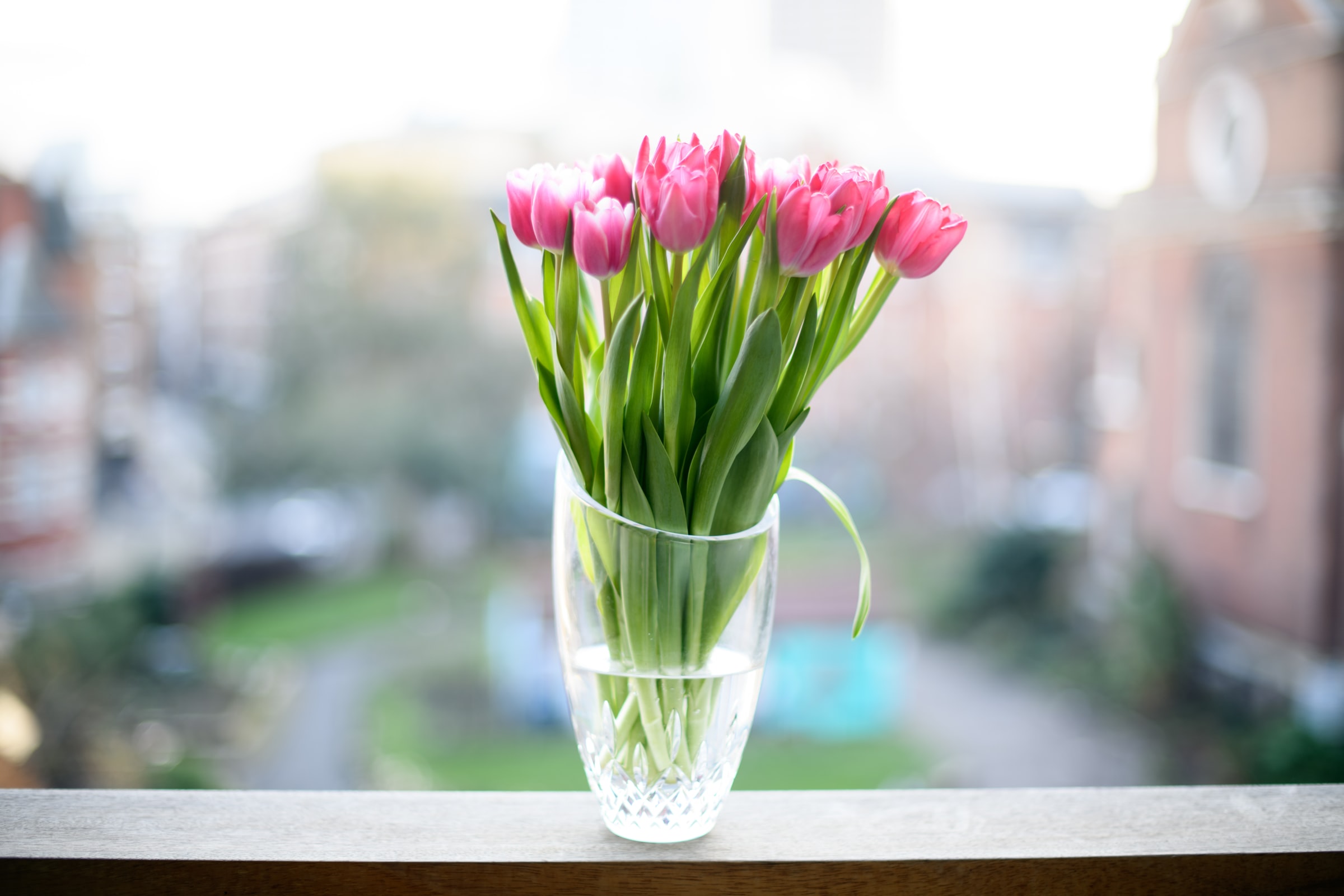 An artificial flower arrangement, Mini Tulips, was designed with this concern in mind. We understand that when shopping online, it's difficult to determine exactly what product you'll receive based on photos alone.
That's why we created our tulip bouquet - this beautiful flower arrangement looks just like real tulips but doesn't require any care or maintenance! They're perfect for anyone who wants a little bit of springtime beauty without having to worry
Add Elegance To Your Room With Tulip Arrangements
Add a touch of elegance to any room with these modern tulip arrangements. The soft, petal-like flowers are made from high quality PE material and look incredibly realistic.
They come in three sizes - large, medium, and small - so you can choose the perfect one for your space. The faux water in the fishbowl vase is also made from resin, giving the arrangement a natural look.
Frequently Asked Questions
What foliage goes with tulips?
Don't worry about that. As the Spring approaches, Myosotis sylvatica becomes a carpet of yellow green leaves covered by small, brightly coloured flower clusters.
It creates a lovely, soft background for tulips in all colours and long-lasting forgotten motifs will attract attention after the leaves fade away.
Conclusion
Tulip arrangements can be a great way to brighten up your space and they come in many different colours. You can also arrange them in several arrangements to brighten up the room. Check out Saffron's Decor for attractive tulip arranagements.
This article is all about getting the trendy ways to you.
Whether you're planting tulips for the first time or looking at tulip arrangements ideas, these tulip arrangement suggestions should help get your creative juices flowing!