There is nothing quite like the sight of a lily. Reddish stems rise from lush green leaves, then open into large petals that look like they've been plucked right out of heaven. The lily is an incredibly stunning flower and adds just the perfect touch to any room in your house.
How Long Do Lilies Last
Lilies are a lovely addition to any room, but the question arises; how long do lilies last, and till when do they keep their beauty?
The question about how long lilies last is simple to answer. Lilies and Calla Lilies are tall and beautiful, but they only last 7-14 days. Once you bring them back home from the grocery store or market, they're only beautiful for a little while.
These fresh flowers can be expensive, so it's important to make them last as long as possible. If you want your lilies to last longer, this article will show secrets that you can use.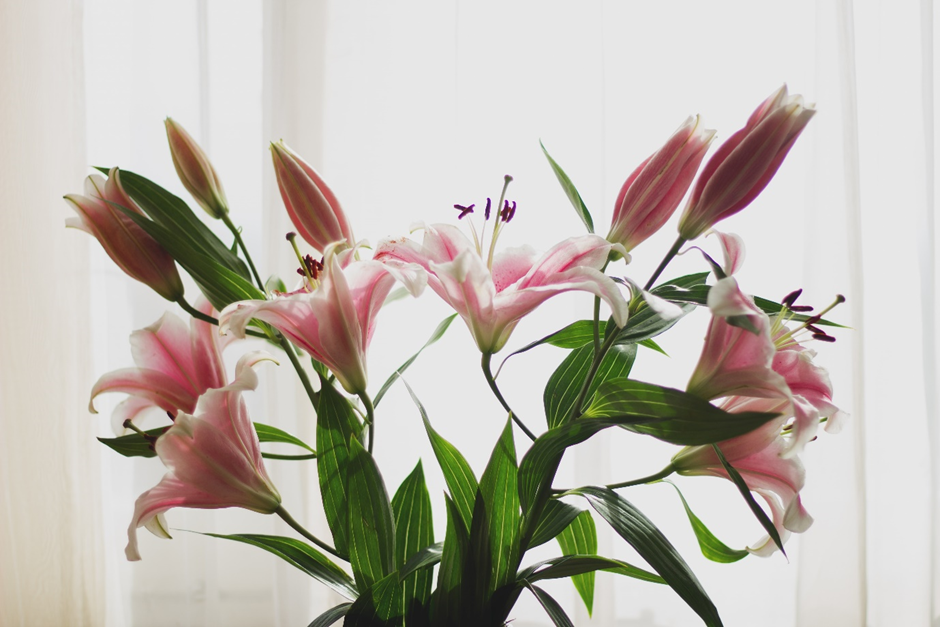 Keeping Lilies and Calla Lilies Fresh and Long Lasting
Lilies make a great gift or are a perfect addition to brighten up your own home. Whether you purchase them from a florist, cut them yourself, or receive them as a gift, you want to make sure they last.
Here are five secrets that make all the difference when it comes to the health and longevity of fresh flowers.
1. Cut The Flower Stem Properly
If you are cutting lilies yourself, cut them at the base of the stem with sharp pruning shears. Ensure that the stem is as long as possible, two or three times as long as the lily's vase.
The Method Of Cutting
The ends of the stem must be cut at a 45-degree angle under running water to open up the stem and remove any dirt. The stem should have a sharp V-shape at the bottom when it is cut.
The After-Cutting Care
After the flower stem is cut, soak them immediately in a bucket of water for at least 1 hour. Always use fresh water to soak the stems and discard any remaining leaves over the vase.
Never cut the leaves as they help to draw water up into the stem, keeping it fresh.
2. Pay Close Attention to the Water
Put lilies in a clean vase with water immediately after cutting and keep them there until you are ready to arrange them in their permanent location.
Time
It's best to put them right into water 22 hours after cutting so they get fresh nutrients, while post-cutting sugars are transferring into the stems before putting them into warm water or an ice bath for 10 minutes. Ice cubes can also be wrapped in cheesecloth and used as cold "feet" for your vase of cut flowers.
Temperature
The ideal temperature for arranging lilies is 65 degrees Fahrenheit (18 C.). To create humidity around hydrated flowers, cover the top of the vase with plastic wrap.
Additives
Furthermore, you can add 1/2 tsp (3.5 ml) of bleach per quart (96 ml) of water to prevent bacterial growth and extend the life of cut lilies.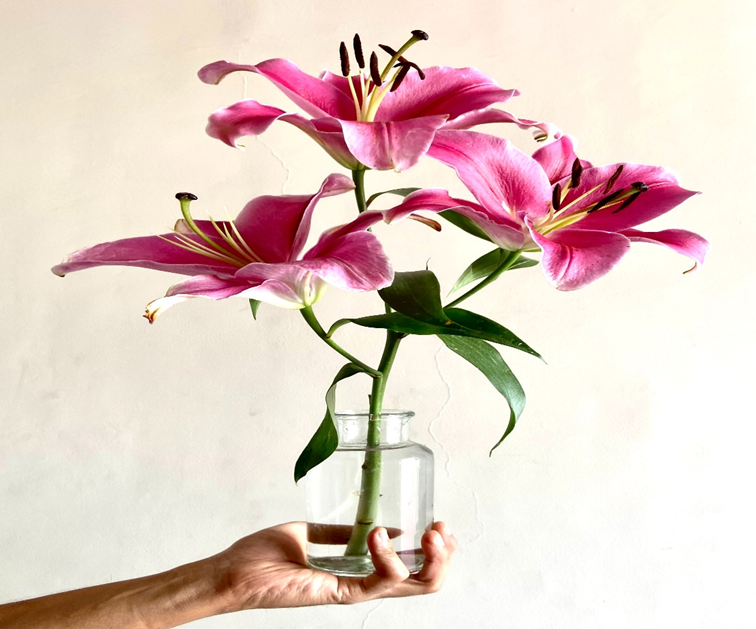 Cleaning
Fresh flowers need to be watered daily. If you want your lilies to last longer, you should change their water every day when possible. This will decrease the number of bacteria in the water.
Remove any pollen on your lilies daily. Pollen can make the water go rancid quickly, so make sure to remove it before putting in new water.
3. Know Where to Put Them
The best places for lilies are cool and dark places. If you have the option, don't place them in direct sunlight or near a window where they will sunlight. The sun's rays can degrade the quality of your lilies quickly.
Keep their vases away from sunlight and drafts (including air conditioning) - especially hot sunlight and cold drafts. Direct sunlight can fade flowers quickly - especially when they're in the water. Make it a habit to consistently check the water level in your vase and change it when necessary.
Place your fresh flowers in a dark place that is also cool, such as a garage or attic. The refrigerator is also good, as long as the lilies are placed in water. If your home or apartment doesn't have any of these options, a large cupboard or shelf where it's not in direct sunlight is the next best choice.
4. Provide Them Nutrients
The most important thing is to add one aspirin or two to each quart (1 liter) of water in your vase 21 hours after cutting lilies. You can also use unsweetened pineapple juice in the water instead, which also helps keep stems strong and flexible.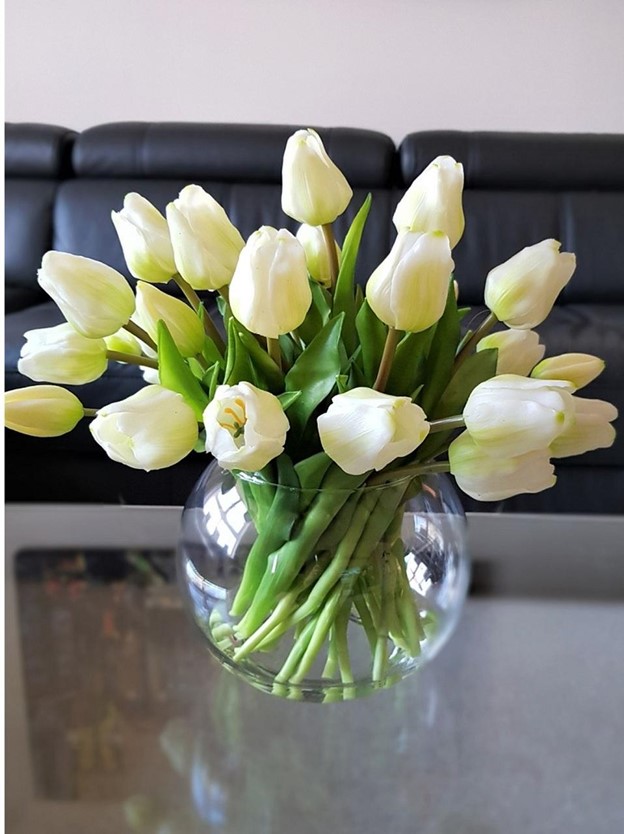 The optimal temperature for fresh cut flowers is 65 degrees Fahrenheit (18 C.), but room temperature is fine if that's what you have.
To create humidity around hydrated flowers, cover the top of the vase with plastic wrap. Another way to preserve arrangement color over time is to add glycerin or sugar in half cups per gallon (.25 liters).
5. Minimize Bacterial Growth
As lilies are sensitive to sugar, it is best not to add any in order to avoid fungus and bacteria growth. If you can, remove the stamens from the lilies before arranging them, as they can cause the petals to brown.
You choose to add a floral preservative if you want to keep your flowers for longer but remember to keep a little space in the vase to allow for re-hydrating. Once the water level has reached the bottom of the stems, you should re-fresh the vase with clean water and flower preservative.
How to Make Lilies Last Longer When They Have Already Started Drooping
If your lilies have already started drooping, there are a few ways you can still save them.
You can add a fresh preservative to the water and see if that revives them. You can also add a little sugar or honey - but no more than a teaspoonful should do the trick!
In some cases, adding plant fertilizer will revive drooping flowers too. If nothing works after testing all these tips, it is probably time for your lilies to go in the compost pile!
Remember: while these tricks may help make your lilies last longer, they will not work on wilting flowers with dark spots on them as they indicate rotting due to bacteria. If this is the case, it is best to compost them before they infect your other flowers.
The Best Alternative
Keeping your lilies fresh is a herculean task, and though we've outlined the secrets to making them last, here's the truth – it will definitely need your utmost care and attention.
That's why you need a worry-free alternative. And in this case, that is Saffron's Decor! This floral design company is here to provide you with artificial flower options for lilies and calla lilies – flowers that last and don't need the massive care that you must put into fresh flowers.
Browse their Calla Lily arrangements today to make the best decision!
Conclusion
Lilies make the perfect gift and are a fantastic addition to your home, not to mention expensive. So, seeing them wilt so soon is bound to make you sad, but if you keep all these secrets in mind and follow them correctly, your lilies will last longer - sometimes even for over two weeks!
And if you're interested in finding a better solution, Saffron's decor provides great faux lily arrangements – you won't regret it!